Free server
control panel
Comfortable, functional and modern. Managing a server has never been easier!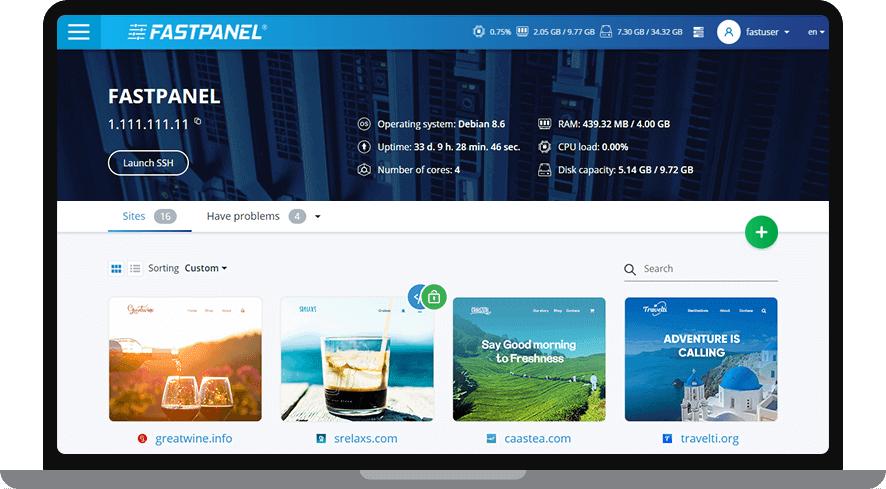 POWERFUL CAPABILITIES
Everything you need to manage the server in one
web application
ACCESS RIGHTS
SETTINGS
Assigning access rights for specific users
to specific sites
EASE OF USE
It's easy to understand thanks to prompts and notifications
ABOUT
FASTPANEL® - simple and powerful server management panel
Create sites in a few clicks, manage mail, databases, backups, plan tasks and analyze traffic. Set and configure access rights as you like - each site can be assigned to a single user. To improve the security of your account, connect two-factor authentication.
Dynamic notifications allow you to be aware of the status of the server and sites. In addition, FASTPANEL® includes a Web SSH client, site preview and a favicon editor.
FEATURES
In order to make your work with FASTPANEL® the most comfortable and effective we have added a variety of tools to work with the server
BACKUP
SYSTEM
Place backups on your own servers or on Dropbox cloud storage
FILE MANAGER
Manage files directly from the browser with the ability to upload files up to 1 GB
SSL
CERTIFICATES
Install free Let's Encrypt certificates in three clicks
CONTROL IPTABLES
Increase the security of the server - manage firewall rules via web interface
CRON TASK WIZARD
Plan tasks: e-mail distribution, data upload, antivirus checks
LOAD STATISTICS
Analyze the statistics of the server resources consumed by the server resources in real time
MODULES
Need more features? Connect additional modules in the panel directly. We update the list of available modules constantly
SUPPORT OF ALL VERSIONS OF PHP

For each site under the control panel, you can assign any PHP version

AWSTATS
INTEGRATION

Allows to get websites access statistics based on server logs

WEB-CLIENT SHELL
IN A BOX

Allows to run SSH terminal in the panel without any additional software
VIRUS SCANNER
AI-BOLIT

Free scan for viruses, malware and infected scripts

RAINLOOP MAIL
CLIENT

Supports Facebook, Google, Twitter and Dropbox integration

SPAM
ASSASSIN

Effective tool with flexible settings for spam filtering
Usage statistics FASTPANEL
WEBSITES CONTROLLED FASTPANEL®
GALLERY
User-friendly simple and modern design. Customize the display order as you like, thanks to Drag-and-drop in the menu and site cards
Valeriy
Modern and powerful panel with a friendly interface. SSL-certificate installing feature is impressive as well as fully functional cron tasking and anti-virus scanning features (before I had to contact technical support to run it). Features like manual website configuration files editor, backing up to various cloud services and easy access to log files are also amazing!
Olga
I like it a lot! Design and these site cards are very handy. I am a "Blondie" -type of user and before it was very complicated for me to set up anything. Now it became much easier. As soon as I've entered the Panel I immediately noticed a status under each icon – working, configured etc. This feature for me is irreplaceable. It's very handy!
Mikhail
I like the intuitive interface! Especially that the there is statistic graphs on main page, ease of access to ssh from the main page (Shell In a Box). Friendly interface of the scheduler and profile management. I liked "SSL certificates" option and feature to request certificates.
Oleg
Nice left side panel. The panel became much easier in terms of usability – no more spare clicks the get to the site. The second thing that is very noticeable – each site has its own backup settings and databases management which is, as for me, very crucial – while having about 15 small sites it was easy to remove or edit a wrong database by mistake. Now the chance is much-much lower thanks to the friendly interface. Well done! Huge respect to developers for Let's encrypt feature in the panel! I rate it five out of five!
Sergey
First impressions are very positive! Everything is visible and accessible. I like site errors feature, backup system and SSH. PHP modules are worth mentioning – thank you for giving users the ability to install them via panel interface. Server resources visibility also added pluses.
PRICES
The panel is free for end users and hosting providers. You can freely use it both for personal purposes and as part of the provision of commercial services.
All you need to install FASTPANEL is a virtual or dedicated physical server
FRIENDLY FOR INTERNATIONAL USERS
FASTPANEL is adapted for 8 languages and regions around the world.
English

Russian

Chinese

Estonian

Deutsch

French

Spanish

Ukrainian
FASTPANEL FOR SERVICE PROVIDERS
FASTPANEL is already available on DigitalOcean, FASTVPS and Vscale servers.
Are you a hosting provider? Would you like to provide FASTPANEL® for your customers free of charge or on other conditions? Please contact us to get a special offer —
SALES@FASTPANEL.DIRECT
.
FREQUENTLY ASKED QUESTIONS
We are constantly improving FASTPANEL® and your opinion plays the most important role in it. If you have any questions please contact us via sales@fastpanel.direct we would be happy to communicate.