Introduction
One of the most comfortable and popular ways to upload a big amount of data to the server is using FTP.
FTP (File Transfer Protocol) — is a standard file transfer network protocol that allows transferring files between two hosts.
FASTPANEL® has all necessary featres to interact with FTP:
Creating new users

Changing current users

Changing access settings

Removing existing accounts
As an FTP server FASTPANEL uses ProFTPD.
Listing FTP users:
To list FTP users available for the current panel user do the following:
Go to the "Side menu" → "Settings" → "FTP"

Creating FTP users:
Go to the "Side menu" → "Settings" → "FTP"

Click "New account"

Fill in the following fields:
Login. The desired name.

Password.

Owner - depending on a selected owner a home directory will be selected.

Site - a website an FTP account is being created for. Depending on a website and owner and a home directory will be selected automatically.

Home directory - a directory to be opened upon FTP connection.

Rights - you may select "Allow all" or "Read-only"

Setting up FTP users:
In FASTPANEL you may change FTP user settings: password and rights. To do this, do the following:
Go to the "Side menu" → "Settings" → "FTP"

Click "Edit"

Fill in the following fields:
Rights - ability to select between "Allow all" or "Read only"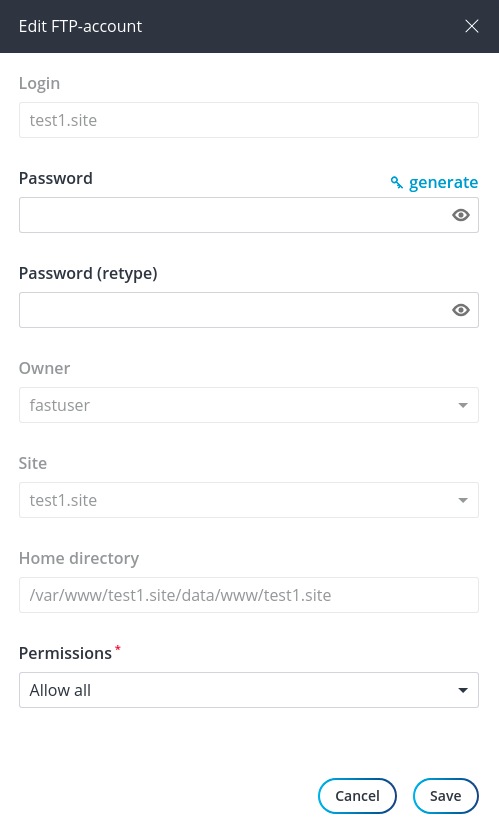 Removing FTP:
Go to the "Side menu" → "Settings" → "FTP"

Click "Delete" icon

Confirm removal